For a local pumpkin picking experience, there is no need to travel out east. Borella's Farm stand hosts a Fall Harvest Festival every weekend in October. Families will also enjoy the corn mazes, hay rides, bounce houses, and an array of other exciting, family friendly events after they pick out this year's pumpkins.
Sweetbriar Nature Center at 62 Eckernkamp Drive in Smithtown is offering two exciting Halloween events this year:
The Halloween Spooktacular offers creepy fun and excitement for children and their families on the evenings of October 21 and 22. The event includes a presentation on eerie animals, a ghostly garden, creepy crafts, scary stories and two special outdoor trails: for ages 4-8 and for ages 8 and up. Snacks and refreshments are also part of the fun.
Trails, Tales, and Treats offers short nature walks, story time and treats for 2-6-year-olds on the afternoon of October 29, 1-3:30 pm.
Halloween isn't complete without a haunted house visit. Down the road in St. James, the Deepwells Mansion known for their year round paranormal activity. It opens its doors for a frightful visit at the following times:
Opening Night - Saturday 10/22 - 7-10 pm
Friday 10/28 - 7-10 pm
Saturday 10/29 - 7-10 pm
Sunday 10/30 - 3-5 pm
The Hoyt Farm Monster Mash offers two-weekend opportunities for Halloween fun: October 22 or 23, with rain dates on the following weekend. Advance registration is required, and the event is open only to current Smithtown residents.
The Smithtown Historical Society is sponsoring two Halloween-themed events this month:
The Halloween Family Party and Contest on October 28 at 6 pm at the Frank Brush Barn at 211 Main Street in Smithtown. The fun includes pumpkin painting, refreshments, traditional ghoulish games, music, and dancing. Advance reservations are required.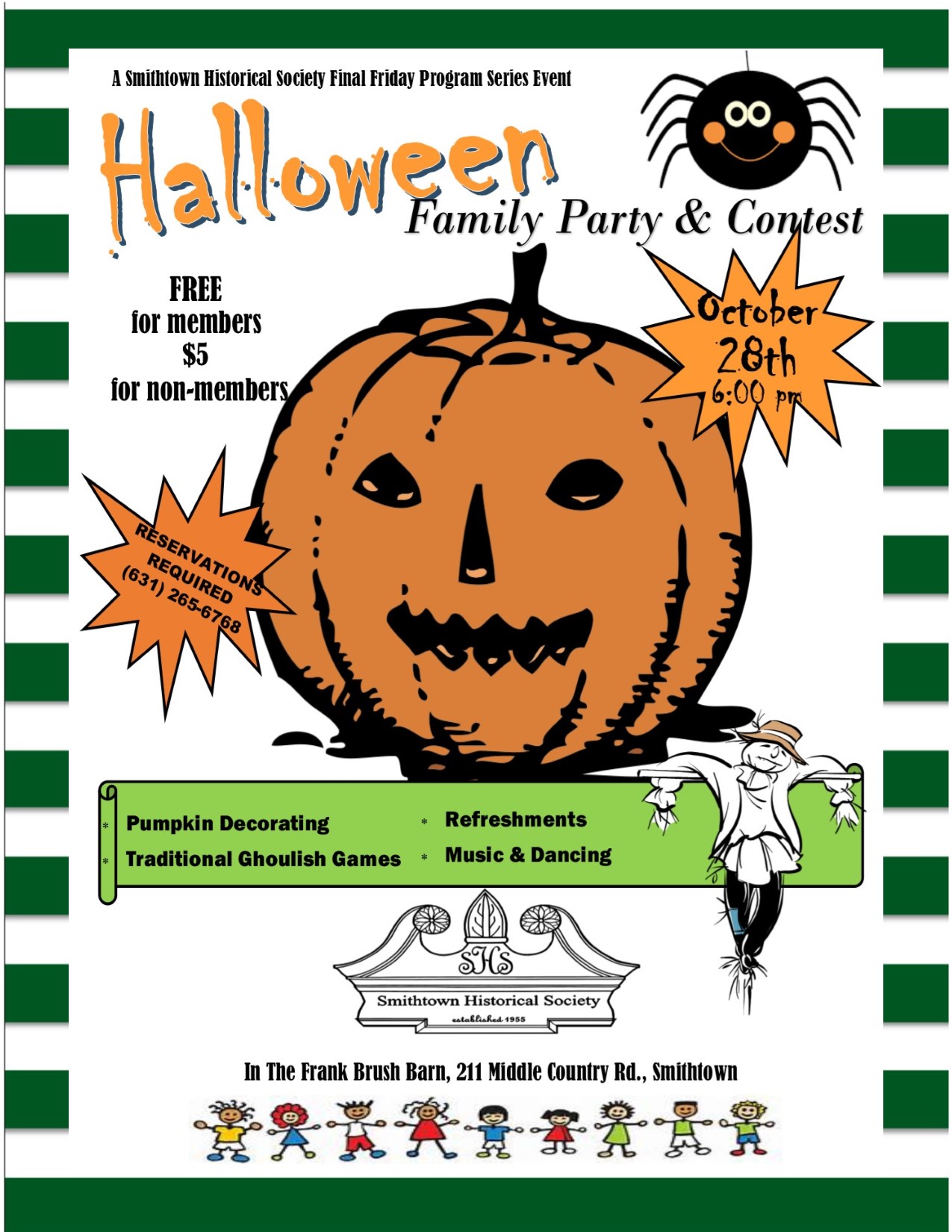 There will be a tour of the St. James Cemetary with a chat on local history on October 29 at 1 pm. Meet at the St. James Episcopal Church at 4690 North Country Road in St. James and wear comfortable walking shoes. Advance registration is required.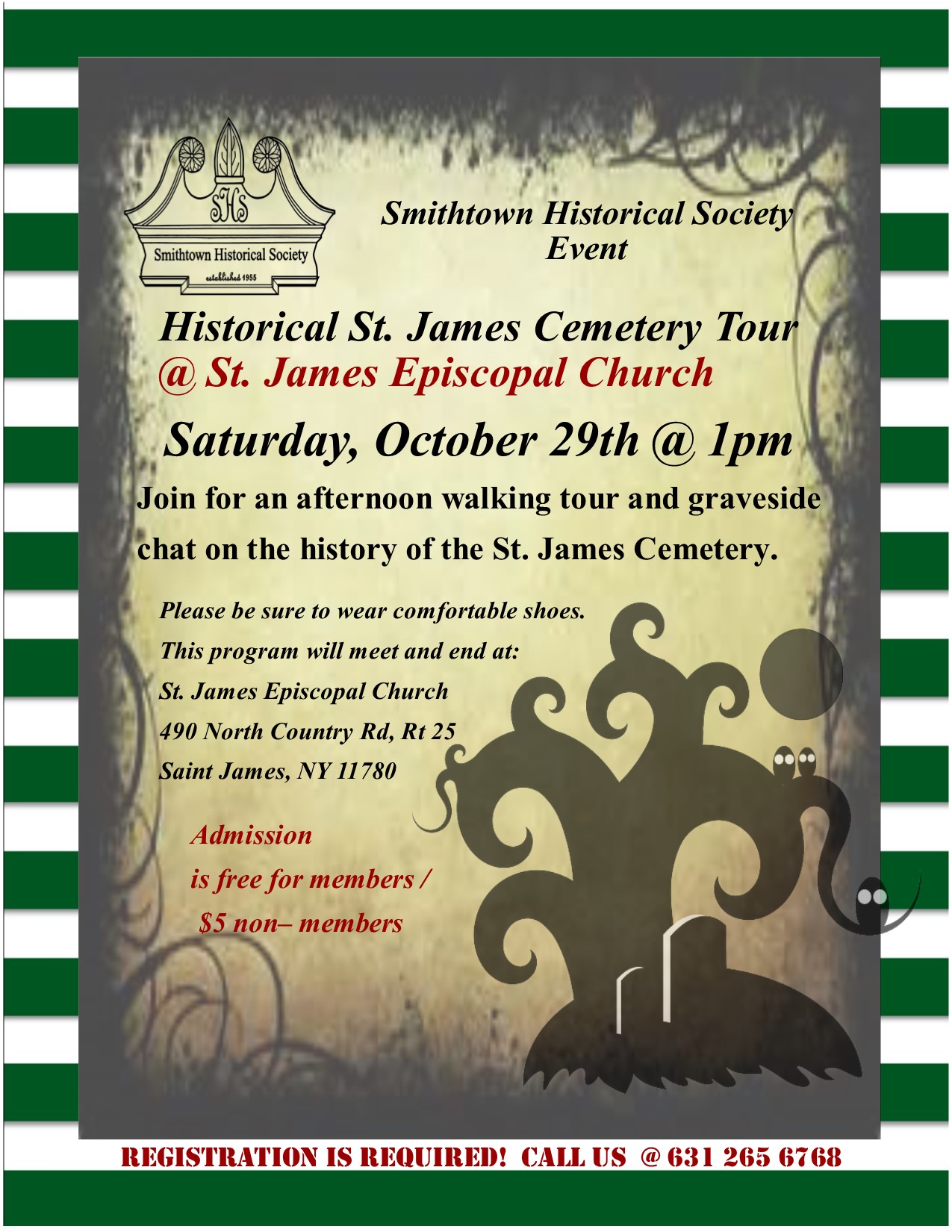 Smithtown Library's main branch is hosting several Halloween events for kids of all ages. Advance registration is required.
On Monday, October 24th, there will be an Edible Pumpkin Pie Playdough and Storytime for children aged 3-5 and their caregivers.
The 5-7-year-old crowd can enjoy some spooky snacks at the Monster Mash storytime on October 25 from 4:30-5:15pm.
Howl-oween Pet Parade will take place on Saturday, October 29 from 10:00-11:00am for families with children under the age of 12. It's a chance to show off your pet's Halloween costume and to participate in some Halloween crafts. All types of pets are welcome. All children must be accompanied by an adult and all pets must be on a leash or in a cage, wagon or container.
Trunk or Treat will take place later that day (Saturday, October 29 at 2:00pm) for families with children under the age of 12. Trunk or Treat is a great option if you live in one of our neighborhoods that require a long walk between houses. The library will have some cars set up with goodies, and you can also decorate your trunk and provide treats for the children.
October is a great month to get out and about in Smithtown, enjoy the fall colors and share some Halloween fun with friends and family. For more information on Smithtown's recreational advantages through the seasons, contact Jim Haydon today at 631-759-6256
Want to Check out the latest listing in the Smithtown area?