'Tis the Season to enjoy all the wonders and festivities Smithtown and surrounding areas have to offer!! From Holiday Light hunting to exciting shows; whether starting new traditions or continuing old ones, there is something for everyone to enjoy in the upcoming months!! So, grab some hot chocolate and let the hustle & bustle begin!!
Where: 239 Middle Country Road, Smithtown
When: Dec 2, from 1:00 pm - 5:00 pm
Visit with Santa for photos, listen to live holiday music, visit all 3 of our Historical Houses, enjoy crafting for the kids, bonfires with s'mores, hayrides and more.
Cost: General admission $5/adults, $3/children under 12
Where: Jones Beach State Park
When: Nov 17-Dec 31
Pile everyone in the car and experience our festive annual drive-through light displays featuring the Enchanting Tunnel of Lights, incredible animation, your favorite holiday characters, and more…!
When: December 1- December 30
Where: Smith Point Beach: William Floyd Pkwy, Shirley
Girl Scouts of Suffolk County and Suffolk County Executive Steven Bellone present Long Island's favorite drive-thru light show! It's the only Light Show where all proceeds go to direct services for children.
Cost: $20/car; $40 for minibus/RV; $70 for coach & school buses (No cash; Only credit/debit cards will be accepted for payment)
Where: Veteran's Plaza at the Kings Park Library, Main Street, Kings Park
When: Dec 2, 4:30 pm
Join your Kings Park Community in the annual Christmas Tree Lighting event!!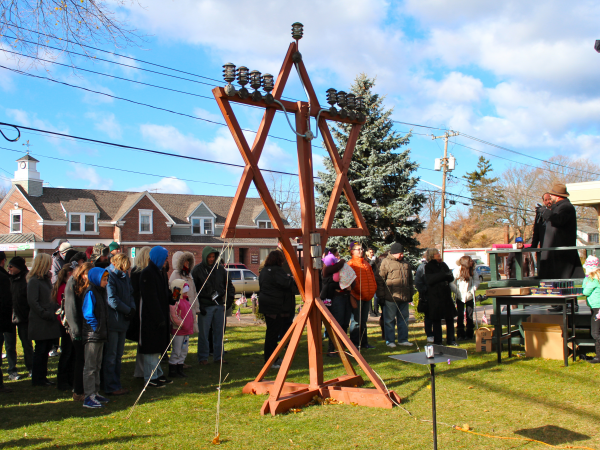 Where: Veteran's Plaza at the Kings Park Library, Main St, Kings Park
When: Dec 10 at 11:00 am
Join your Kings Park Community for the annual Menorah Lighting!!
Where: 5 Forest Lane, Coram NY
When: Dec. 16 6:00 PM – 10:00 PM Light show will run Nov 23-Jan 1, 2018
Our 2017 Santa Night will be Saturday, December 16th from 6:00 PM to 10:00 PM. Come down and take a picture with Santa and other characters. Enjoy some free Hot Cocoa and cookies along with a Chinese Auction with all proceeds going to Breast Cancer Research. The event is totally free and open to the public.
Where: 52 King Avenue, Selden
When: Nov 23-Jan 1, 2018
The display will be turned on Thanksgiving night and will run all the way through New Years Day from 5pm-11pm every night. As you make your way to the display, simply tune your radio's to 107.3 F.M. to hear the music or you can walk around the display as there are speakers spread out so people can still hear the music.
Where: All over Long Island
When: All season long, when the sun goes down
Check out the ultimate map to Christmas lights on Long Island through this interactive Google Map !
Where: Triangle at Route 25A, Moriches Rd. and Lake Ave., St. James
When: Dec 2 tree lighting at 4:30 and Dec 12 to Dec 19 Menorah Lighting at 5:30
Celebrate with us each day as we light the St. James Menorah for Hanukkah. Candle lighting each day at 5:30 pm (4 pm on Friday). Goodies for all each night.
Cost: Free
Where: Town of Smithtown Town Hall
When: Nov 29, 5:00 PM-6:30 PM
Cost: Free
Where: Route throughout Smithtown to be determine
When: Dec 16, Kick off time 5:00
Contact us for Parade route, we will forward it to you as soon as it is released!. Find a spot on the parade route to view the spectacular light show the Smithtown Fire Department puts on. Dressing up Fire engines in beautiful lights and sneak peek at Santa and his reindeer at the end of the parade!! This annual tradition is not to be missed.
Where: Great Hollow Middle School: 150 Southern Blvd, Nesconset
When: Dec 2, 9:00 AM – 1:00 PM
Enjoy a delicious breakfast while raising funds for the Smithtown children's foundation/silent night!!
Where: The Village of Port Jefferson
When: Dec 2-Dec 3
The events are open to the public and most attractions are free of charge, so everyone – from the very young to the young at heart can join in the fun. The festivities will feature many returning favorites; ice skating at the Village Center, a cappella performance by choirs and harmony groups, Nutcracker performances, magic shows by The Great Wizard of the North, and many fine musical performances by area musicians. In addition, this year's festival will feature Theater Three's 33rd Annual production of A Christmas Carol.
Where: Watermill Caters: 711 Smithtown Bypass, Smithtown
When: Dec 17, 10:45AM-2:00PM
Bring the family for a festive celebration featuring Brunch with Santa! Enjoy an extensive selection of award-winning cuisine that is sure to please.
https://www.watermillcaterers.com/resourcefiles/pdf/brunch-with-santa-2017.pdf

SEATING TIMES: 10:45am, 11:30am, 12:30pm, 1:30pm & 2pm

ADULTS: $45* / CHILDREN: $25*
(*plus tax)

RESERVE TODAY! Call 631-724-3242
Where: St. James General Store: 516 Moriches Rd, St. James
When: Nov 25-Dec 23 @ 1:00PM
Not looking to stand in line at the mall for a visit with Santa? We've got you covered! Families can enjoy visiting with Santa, shopping and viewing many museum pieces that highlight the rooms.
Where: Smithtown Performing Arts Center: 2 East Main, Smithtown
When: Nov 11 - Jan 21, 2018
Consider yourself at home with Lionel Bart's classic musical based on Charles Dicken's novel Oliver Twist. The award-winning musical springs to life with some of the most memorable characters and songs ever to hit the stage.
Book, Music & Lyrics by Lionel Bart
Cost: Adults: $25/Children under 12: $15/ Family Four Pack $80(2 Adults/2 Kids)
Where: The Staller Center for the Arts, Stony Brook University, Nicolls Road, Stony Brook
When: Dec 15-18, Fri: 7:00 PM, Sat: 2:00PM & 7:00PM, Sun: 1:00PM & 6:00PM, Mon: 7:00PM
Why: Hailed in its 1995 debut as Long Island's most lavish Nutcracker, the Seiskaya Ballet production of the classic holiday ballet returns to Stony Brook's Staller Center in a truly international collaboration, choreographed by world-renowned Russian-born choreographer Valia Seiskaya.
Cost: Adults $40, Children & Seniors $34, Groups>20 $30
Where: Smithtown Landing Country Club: 495 Landing Ave, Smithtown
When: Dec 31
Family New Years Eve Party! 9pm-1am
At the Smithtown Landing Country Club!

Unlimited Beer, Wine, Soda, and Juice!
Sit down dinner, Chinese Auction, Lularoe Popup store, Dancing and much more!

10yrs old-Adult $120pp
3-9yrs old $60
Under 3 Free

Hosted by Poste Faires Productions!!
Please contact:
Theresa 631-312-4436
PosteFairesProductions@gmail.com